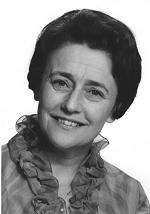 Joan Elliott - Journalist, broadcaster.
Also mother, wife, grandmother
Some responses to her life
---
What a wonderful account of your mother's life. It reduced me to tears.
Joan and I have been "best friends" for over seventy years - since she was seated beside me by a teacher at Fairfield Kindergarden aged about 5 or 6.
Through the years we have understood each other completely and with great affection.
There is nothing I can say about this terrible thing except that I send my love and prayers to you all, and most of all to Joan.
Isa Gomme

---
Dear Patrick,

I'm so sorry to hear of your mother's illness - of course I remember Joan extremely well, and fondly. I remember, many years ago, she was a guest on Look North, about to be interviewed by George House, when we had one of the biggest - and funniest! - cock-ups of all time! But that's a long story!

I haven't plucked up enough courage yet to go on the Internet - soon, though! - but I hope to be able to access Tyne Tees' during the week.

Many thanks for letting me know about Joan - please will you give her my love and regards when you next see her?

All the very best.

Mike
(Mike Neville, M.B.E., Tyne-Tees Television)

---
Patrick, that was a very touching web page. I found it interesting to read about her life. After visiting hospital today I can somehow hear her intelligence, which is trapped behind that awful disease, trying to get out.
Kindest Regards
Iain McLaren
CEO Ditto Website Design
Iain's grandmother was in the next bed to Joan during a stay in Dryburn Hospital.
---
Hello Patrick,

Thank you for sharing your mother's story with us! I am saddened to hear she has Alzheimer's Disease and can appreciate how difficult that must be on all of you. I was certainly touched by the love you all share. It would be wonderful if all families could experience such bonds.
Barb Kent
Denver, Colorado
MrsB3d@aol.com
---
Patrick,
Thank you so much for alerting me to the presence of your Mother's biography on your Web site. She certainly had an interesting life and it is so good to be able to have this means of getting her story down in print in this manner. Similarly, I was hoping to complete my Dad's autobiography in "Pop's Progress" but my Father has recently taken a turn for the worst and it looks like I may have some difficulty in completing his story (at least in his own words). We were able to visit him from our home in California last summer, and I talk with him from here on the phone every Sunday morning but it is clear that he is presently not up to giving me much more - time will tell. Still I am so happy that I was able to get as much of his story as I have, and to be able to share it with him while we still had the time.
Thank you again for sharing your Mother's story with me.

Kind regards, Pete Porter.
California, USA
PPorter1@compuserve.com

---
Hi Patrick,

What a lovely tribute - and what a beautiful idea! I printed it out and Mike & I thoroughly enjoyed reading it - he had not met her, but I did - in '92, I think. It was certainly a creative & thoughtful way to work thru' your frustration with her illness.
Thank-you for sharing that with us.

Warmest Regards,
Anne-Marie
ampower@vaxxine.com
Our friends from Ontario, Canada.
---
Dear Patrick,

I have just read your tribute to your Mam. What a truly remarkable lady. I find it very interesting indeed to read of such lovely people, although I have never yet met your Mam I felt somehow that I knew her.
I think the idea of putting to practise something you do very well is a nice idea and I gathered the opinion that you are very proud of your Mam from reading the text on the page and it looks as though you have captured the flavour of your Mam very much.
You most certainly have set the record straight and your Mam will be very proud of you for expressing your feelings for her with such a fitting testament.
I can understand you becoming upset on the way back from hospital, it's only natural and there is no shame in showing your emotion.
I can see Rachel in your Mam from the earlier photographs. I bet she is very proud of her grandchildren.
Don't worry, your Mam will definitely still know you. I am going to say a prayer for her. Will you pass on my best wishes.
Hope you are feeling better
Graeme
gj.d@virgin.net

---
Patrick,
That's a wonderful and moving tribute to a remarkable woman. And the style is perfect.
Harry
30-Mar-98, 09:31
Portland, Maine
76032.3345@compuserve.com

---
I've just read your web page about your mother - what a wonderful thing to do for her and about her. Thanks for sharing something of her with others in this way. She sounds like a really great woman, and will leave a really precious, inspiring legacy. I hope & pray that the next stage of her life is as untraumatic as it can be for her, and for all of you too.
With very best wishes, Ricarda Leask (a list member of the COIN list, writer & parish secretary, soon-to-be ordinand, mother of Tabitha (7) and Emily (6) )
ricarda@ndirect.co.uk
---
Dear Patrick

I just had to go look at your Mum's page. It is marvellous, and what a wonderful woman. The background of muted newsprint is just right. I found it extremely touching... my father in law also has Alzheimers disease so I can understand your distress at seeing her intellect wither. In fact just at this moment my husband is off visiting his Father, though with no hope that he will even recognise him.

I also liked the photographs (especially the black and white ones) and, now that I have a scanner, it has decided me to ferret through the shoe-box full of old photos which I inherited from my mother and to get back to work on 'Laura's' page.

Well done... I still have a tear in my eye!

Patti,
The Tarbert Hotel, Penzance, Cornwall, UK
Website: http://www.tarbert-hotel.co.uk
100734.257@compuserve.com

---
Prayers under way. No offers of magic, just a continuation of the dignity.
--
David Rowett
Vicar of St. Matthew's, Fairfield, Grimsby.
d.rowett@virgin.net

---
Will say prayers for her.
--
Jill Wright
jill.wright@zetnet.co.uk
Bradford Diocese
---
Hi Patrick,
Sorry to have taken so long to reply. I downloaded Joan's page just after I got your e-mail. There's a great deal there from the early years about her I didn't know, and it's nice to be reminded of her - like a photo album of my own.
Regards
John Dawson.
ldwalks@jondaw.demon.co.uk
John at one time lived near Joan and Jeff in Ham (west London)
---
Patrick:
I took a look at your web page after seeing your post in the INETPUB forum. You've created a wonderful tribute to your Mom. Please offer her my best wishes.
-Bob Ransom
73247.1430@compuserve.com

---
Hi Patrick,
I read your tribute on the web page to your mother. I found it most moving. Congratulations on a fine idea well carried out. Thanks for the opportunity to see it.
--
Kind Regards
Christopher
quilljar@argonet.co.uk
---
Hi Patrick,
I loved it! It brought tears towards the end, but it is a *wonderful* page. Thanks for sharing it with us.
cheers,
Xina
Christina Gibbs, 74777.2605@compuserve.com
---
I fell into this page by accident trying to find relatives.
I was totally captivated. It is a real joy to see some thing likes this on the internet.


James W Walker
POB521
Mena, Arkansas 71953-0521
lmw@arkansas.net
---
Patrick!!
What a wonderful tribute!!
I have a tribute to my Mom also, she is gone, but I have dedicated my Health Booklet to her memory. I send it via email to those interested.
Blessings
ric
ricfoster@yahoo.com
---
Hi Patrick,
You have a very nice page set up for your mother.. she sounds like a fantastic person..
Bob Hoffman
hoffcomp@sparc.isl.net
http://www.isl.net/~hoffcomp/alzchat.html ( CANDID Dementia Chat room)

---
Patrick,
Thank you for sharing the URL for your tribute to your mother. I enjoyed reading it. I asked my mother if she knew your Mum, but she did not recall the name. She was a pilot in the 1930's also, she soloed in the Piper Cub 50 Lycoming and flew the Stinson Gullwing. She was also one of the first, or the first, woman employed by an airline as a Link Trainer Instructor.
My mother is 83 and in pretty good health. My father is the AD victim. My page on him, which is still under construction, can be found at:
http://www.angelfire.com/ma/alrac/dad.html

Thanks again for sharing your page. There is a fellowship of mourners for what this disease has taken.
Carla Flaherty
carla@sonic.net
---
I saw your message with the reference to the page for your Mum and took a look at it.
She seemed to be a very impressive lady and I would bet she would have been proud of your tribute to her.
Sarge46@rnet.com
aka Gus Carroll
---
It is wonderful to have such support and I was very moved to read Patrick Nethercot's tribute to his mother.

Thank you for sharing this.
Cheers
Lynn
Lynn Pollack
NSW Australia
email: lpollack@sydpcug.org.au

---
Hello Patrick,
I saw your post on the Alzheimer list, to which I have been a subscriber for about two years. Your tribute to your mother is just lovely and I do commend you for it.
I run an Alz. Family Support Group here in a busy capital city of South Eastern Brazil, where my husband and I have lived for a long time. I was, however born in South Shields (1941) and was at boarding school near Hexham for many years while my parents were abroad - they now live in Chester.
Your mention of the Lake District reflects my own memories of that area.
Sincerely,
Judy Robbe
robbe@net.em.com.br
---
Hello Patrick,
I just wanted to tell you how much I appreciated your lovely web tribute to your mother. It was so moving it brought tears to my eyes.
My mother also has Alzheimer's, but hers began in her mid-50's, and turned her from an active vital woman who was an amateur actress, who painted and sang, who played the piano and sold real estate into, gradually a helpless child, and then to less than that - the stage she is in now, having just turned 70. She is bedridden now, can no longer talk, recognize anyone, is incontinent. She is still at home though, cared for by my father.
This is such an awful disease because it takes away the very core of your being, the very self. I just wanted to tell you your web site is wonderful and your mother sounds like quite a woman - and apparently a good mother too.
--
Debbie
dcusick@prodigy.net

---
Hello, Patrick.
I found your page really interesting, and as I am a journalist and broadcaster, too, there was much I have in common with your mum.
My mother-in-law has a form of dementia - it's thought it probably isn't Alzheimer's, as the decline does not mirror the typical pattern, and she has had 'it' for probably 13 or 14 years, plateauing about three years ago into what appears to be total passivity, immobility and blankness. It is a long time since any of the people she has loved have had any sort of a response or flicker from her. All forms of dementia are so cruel. My lovely father-in-law was her devoted companion and carer for many years until she had (apparently) a stroke which meant she needed round-the-clock nursing care. He died last year, regretting to the end they couldn't go together. My best wishes to you and all your family, and to your mother.
Heather.
haethwel@globalnet.co.uk
---
Just beautiful - Joe Howe
joseph.howe@virgin.net

---
Hi Patrick,
I have looked at your moms web page and I am greatly touched. "The Long Good-bye" sums up Alzheimers to a T.
Geoff Smith
GSPrintUK@aol.com

---
Hello..
What a wonderful tribute to your mother, and one that her grandchildren and great-grandchildren will treasure forever, I am sure. She has certainly made wonderful use of the life God has given her, and no doubt will continue to monitor things from whereever she is. You are blessed with the support of a close and loving family. It is interesting how tragedies like this will draw some families together, and utterly demolish others! My best to you and yours, and may God be watching over you all and give you the strengths you need.
Marge McElroy
mrgnrt@columbia-center.org

---
After my mother's death...
Patrick
Really sorry to learn of the sad news. I appreciate this will be a very sad time, following what was lovely news about Chloe.
I'll be thinking of you all.
Donna Whitfield

---
Dear Patrick,
We are all very sorry to hear about your mum and send our sincere condolences to you, Jeff and the family. Please let us know when the funeral is as we would like to attend.
From everyone at the Branch.
Durham and Chester-le-Street Alzheimer's Disease Society

---
Dear Patrick,
Please accept my sincerest condolences regarding the passing of your mother. She certainly lived a full and interesting life and it must have been with a great deal of pride and satisfaction that you were able to write her story for others like myself to read and enjoy.
Your cyber-friend, Pete Porter.
PPorter1@compuserve.com

---
Patrick,
I was very sorry to hear the sad news about your Mother, as I said to you after reading the page you wrote about her, she certainly had a varied, full and interesting life and was known and respected by many people. I'm sure I echo the feelings of the Team when I say our thoughts are with you and your Family at this time.
Gary.
Gary Marshall GMBLADE@aol.com
---
God rest her. My prayers are with you.
Meg
Meg Gilley meg.gilley@zetnet.co.uk

---
Thanksgiving for her life - prayers for you and yours. Whatever the means of departure of our loved ones, the actual parting hurts.
Blessings.
Jill
Jill Wright
Jill@jwright.nildram.co.uk
Bradford Diocese

---
Dear Patrick
My sincere sympathy - my thoughts will be with you and your family.
May she now rest in blessed peace and may you and all her family find much comfort in your memories of happier days perhaps long past but precious all the same.
Sincerely Lynn
Lynn Pollack, NSW, Australia
lpollack@sydpcug.org.au

---
Dear Patrick
I am sincerely very sorry to hear of the death of your mother. No doubt you will miss her greatly. My sympathies, I know how it feels.
Best wishes
Patti
The Tarbert Hotel, Penzance, Cornwall, UK
Website: http://www.tarbert-hotel.co.uk

---
Dear Patrick,
I'm so sorry to hear of your mother's passing. I read the whole of your touching tribute page and she certainly seems to have been an exceptional lady.
I had forgotten she was a pilot in her youth but it certainly fits my memory of her. I recall her telling me to "find the best knee-man in the country and that's the man you go and see", though me being me of course I never did and the knee still bothers me from time to time.
Take care,
R.
(Rob Rackstraw)
robrackstraw@ndirect.co.uk

---
Deepest sympathies and prayers... and I think thanks that it was not left to the Alzheimers?
David
David Rowett d.rowett@virgin.net

---
Dear Patrick,
We are so saddened to hear about the loss of your Mother. She was a truly remarkable lady and you do not need me to tell you she will be a miss to you all. She will be at peace now Patrick and you will always have her memories with you.
I am sure little Chloe will help ease things though.
Our best wishes to you all and our thoughts are with you.
Best wishes
Graeme & Family.
gj.d@virgin.net

---
Just to say that you have compiled a very touching WWW page.
Please accept my sincere sympathy regarding your recent bereavement.
Best Wishes
Andrew McCaddon


Andrew McCaddon
Gardden Road Surgery
Rhosllanerchrugog
Wrexham LL14 2EN
North Wales
Tel: 01978 840034
Fax: 01978 845782
e-mail andrew@mccaddon.demon.co.uk

---
Further tributes
I have happy memories of when you first came to St. Oswald's. Joan and I cleaned the church brass together and she was always so friendly and full of life and humour.
The funeral service was a fitting tribute to Joan....
Joan was a remarkable woman. Keith and I felt privileged to have known her. In truth she was an inspiration to all women.
As for me, I shall try to remember her brightly smiling and trying to organise the Sanctuary Guild into some kind of order!
Joan was a very special spirit. It was a privilege to have known her. She was such a life-enhancing person, loving and talented. She was also a woman of courage.
I shall remember Joan for her kindness and humanity.
Remembering Joan and her wonderful spirit and kindness.
I always knew she was someone of great character and that she had been a journalist, but I had no idea of her many other interests and abilities.
I was privileged to know Joan and will always have happy memories.
But we are all but pilgrims and must pass along the celestial way - rest assured that Joan's passport will be in good order, and she will go straight through customs on the other side.
I think what I loved most about her was that, whatever happened, she was always so full of spirit.
I am of course truly saddened because she was my first "mentor".
Joan was a super person, with a ready wit and quick understanding. We are sure that ever so many people will retain the happiest memories of her.
I thought Joan was a lovely woman, spirited, brave, alert to everyone and very, very kind. I was very fond of her.
She touched the lives of many and will be remembered with fondness, love and joy. I remember Joan's great humour.
She was such a lively person. I do have wonderful memories of her.
Your mother sounds like a remarkable woman; the world and those who knew her must be happy she was here.
---
27 March 2002
Dear Patrick,

I do hope you get this e-mail and that the link is still active. Quite by accident a colleague of mine at the BBC in Manchester found the link to your excellent pages devoted to your Mother. I didn't know she'd passed away, so please accept my sincere if some what deferred condolences.

I worked with Joan at Radio Leeds in 1968 and 1969, only 18 they were exciting times. Phil Sidey was a fantastic boss, and a genuine visionary. I was mad about radio and he encouraged me be so! I helped out on all the shows, and "Joan Elliott Calls" with it's BBC Radiophonic Workshop theme was a true favourite. Radio Leeds own "Woman's Hour" - it was pioneering for local radio.

I never knew too much about your Mum's background, but do have vague memories of a rather drunken night in the Merrion Centre when I think she threw a wine glass at the wall!!! Probably the marks are still there!

Please do get in touch, it would be lovely to say hello.

You can contact me at the BBC in Manchester - e-mail gerald.jackson@bbc.co.uk

Very best wishes
Gerald
---
Dec 1 2004
I came across the lovely story of your Mum by sheer chance while I was searching for information about repeated hip dislocations.
What a wonderful lady she was.
Janet
Farnham, Surrey, England
---
Joan Elliott
---