Joan Slack
1918 - 1999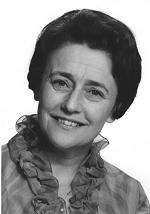 known to many as
Joan Elliott
Journalist and Broadcaster
Funeral Service
St. Oswald's Church, Church Street, Durham.
Friday 17th September 1999
1:30 p.m.
---
Conducted by the Rev. Judy Hirst, Associate Vicar, St. Oswald's Church, Durham City, UK.
Words of Remembrance (Patrick Nethercot, Joan's son)
Remembrance is a strange word, but memory is at its core. And memory is very relevant when one considers Mum's battle with Alzheimer's, and my own involvement now with Alzheimer's. Mum never lost her memories, but the pack got shuffled, and the links broken - they were all in there somewhere.
The other night I was telephoned by a reporter from the Newcastle Evening Chronicle, and he asked me what memories I had of Mum.
"I have 53 years of memories," I said. Where could I start? But I told him of a very early memory. I was five years old, and in bed with some illness. Mum came into the bedroom carrying a tray with a meal for me. She stopped and said simply, "The King's dead", and dropped the tray!
Then there was the last time I spoke to her. I went in and she grabbed my hand. "O darling" she said. "Pappapaptrapple" as she tried to say my name.
"I love you," I said.
"Love you," she said, gripping my hand, and I could tell by her eyes this was not repetition, but she knew it and meant it.
Last year, just days before she died, Christine's mother Pat said, "You won't forget me, will you?" As if we could! Mum of course could make no such request, but neither will she be forgotten, for she is here. Every time I cough or sneeze, it sounds like her; for a woman with her drive, pioneering spirit, determination and ambition, look no further than her granddaughter, Rachel. Richard is proud that he has the "Elliott nose" and he is sure that Chloe has it too! Lis and William have it as well, and Edward has those blue eyes. And I just found out this morning that William is about to start a Broadcast Journalism course - it must be in the blood! Mum lives on, within us, around us, in our genes, in our memories and in our hearts.
One last memory, this time one of Mum's. I have only vague memories of my Grandpa Elliott. He had served in the tank corps in the First World War, and heaven knows what terrible memories he carried. One result was that the hymn "Abide with me" reduced him to tears, and whenever it was played, he had to leave the room. This was a lasting memory that Mum had, so let's think of her and her parents, whom she missed so much, as we sing "Abide with me."
Address (Alan Piper, Licensed Reader at St. Oswald's)
We come together today, in our Father's presence, to grieve for Joan, that she is among us no more; grieving is complex matter. In any human life there is always unfinished business, wrongs, imagined and real. left unresolved, and part of the painfulness of death is that it seems to cut us off for ever from the possibility of saying sorry. Not so - we have come here, to the threshold of eternity, in a building which if it stands for anything, stands for forgiveness, the ever open possibility of forgiveness and so part of what we do today is to acknowledge in the stillness of our hearts any sense of having failed Joan, and equally any lurking feeling that she failed us. For be sure, in every human relationship of any significance, there are elements that leave us with a sense of failure, and there is a strong temptation to store these up, whether they be wrongs that we have done, or wrongs that we have experienced. The invitation here today is to leave them behind, safe in God's hands and to move on, to call to mind the delight it was to know Joan.
In a fine tribute to Joan by her son Patrick, that is of course available at the appropriate web site - the technology of communication runs in this family's blood - there is a wonderfully arresting sentence. "In the late 1930s she learned to fly." Maybe her addiction Tiger Moths was widely known among her circles of friends but for those who encountered her late in her life this image of her whizzing around in her biplane is a superb image, that fits so well with her zest for life, her unquenchable spirit, ever enquiring, ever interested.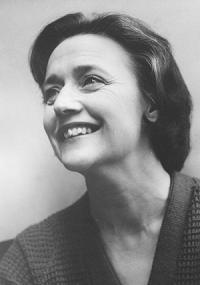 The great images of Joan catch her looking intently upwards, for she was not tall, giving her full attention to the person before her, even if, with eyesight less reliable than she cared to admit she found herself warmly congratulating the bearded father of two fine children on his recent engagement when her true quarry was another man, another beard.
The great virtue of the Tiger Moth as a flying machine was its manoeuvrability, twisting and turning with ease and landing like a dream. There were lots of twists and turns in Joan's life, both professional and personal, and some of them didn't make for easy landings, but her strength of spirit enabled her to bring them off without permanent, irreparable damage.
And she conquered more machines than a Tiger Moth; there was the Newcastle trolley-bus and a Centurion tank, but most important of all the control panel that she had to operate as a radio broadcaster in Leeds, single-handedly running a half-hour programme five days a week. We shall never know how many listeners benefited from this riposte to the cosiness of "Woman's Hour" in which she steadfastly refused to evade difficult questions or glib answers. Maybe that was the most significant time of her life, in terms of a quiet influence for good, that enabled her to make the best of her gifts of honesty and integrity, and a capacity for real hard work.
After Joan retired from her work as journalist and broadcaster, she and Jeff decided in 1988 to move to Durham, where Patrick lives, and very quickly found herself caught up in a new enterprise. On the face of it what happens seems quite fortuitous, but maybe not. When they moved, Joan was recovering from a successful operation for cancer and made her way to this church as a suitable place for quiet reflection. But if she thought to be alone, she was disappointed. Churches cannot be left unattended these days, and here she was greeted by Mary Adamson and falling into conversation, as one always did with Mary, Joan found herself warmly invited to be in church next Sunday. Now neither Joan nor Jeff had had much to do with organised religion in their life together, and indeed Joan had had a bad experience with the Mothers' Union in its unregenerate days. Nonetheless they decided to give it a go, and how! They threw themselves wholeheartedly into the life of the Christian community here, not just services on Sunday, but parish cricket matches (as spectators) weekends away at the retreat house near Hexham, pilgrimages to Holy Island.
And in this, as in all else, Joan did it as she would say, properly. She could have claimed "good standing" as a member as a girl of the Methodist church in Hull, where her father as the exuberant choirmaster was liable to flick the hats of the ladies in the front row, but no, for Joan being a member of the Church of England meant being confirmed and so in 1990 she was confirmed. Some may find this all strange, but if you know the strong sense of community in this part of Durham in which the church plays a large part then it becomes easier to understand how Joan was profoundly attracted to an embodiment, albeit imperfect, of the socialist principles to which she was so deeply committed. This was living out the values that she really cared about, rooted in the tradition that has done so much to nurture them. For her it made sense, complete sense.
As many of you know, Joan's enjoyment of life in Durham was cruelly overtaken by a remorseless burden of physical and mental infirmity, putting great demands on Jeff and on Joan's immediate family, and one thing that everyone here today would wish to do is to salute them for their steadfastness through this time and their typical generosity, would wish to record how much support they have received from social services and the staff of St. Margaret's Nursing Home.
But Joan's sure touch on the controls of her plane did not desert her. She may not have grasped that in the last days of her life the birth of Chloe made her a great grandmother, but she remained a bright spirit, interested and curious about her fellow residents, constantly reaching to them and also making her way down to the office to ensure that all was being done properly.
Much of her may have slipped away, but not that indomitable core. And so as we each bring our recollections of her to the threshold of eternity, rising up and blessing her name, our focus is not here, but out there, shading our eyes and saying, "There she goes!"
The family invite those attending to join them after the service at the Victoria Inn in Hallgarth Street (Joan's "local") for refreshments and to raise a glass in tribute to her long and fulfilling life.
---
Joan Elliott